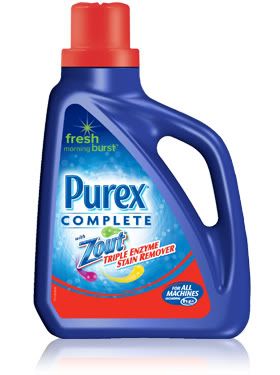 If you had been following the coupon forums at HotCouponWorld.Com, you would have already known that Family Dollar store has a fantastic deal on Purex. The Purex with Zout 33 load bottles are on sale for just $3.50 so when you use the $3.00 Purex with Zout coupon from the February 20 Red Plum you could have scored it for only 50 cents. Tomorrow is the last day of that deal so if you have those coupons, you can stock up.
Yesterday The Coupon Whisperer was stocking up on his Purex and I had a STRANGE encounter with a Family Dollar store manager. When I showed the coupons to buy 4 bottles, the store manager said he had to check with Family Dollar HQ to find out what their coupon policy is.
WHAT???? How does a store manager NOT know what the coupon policy is? Does this mean that no one before me has ever handed more than one coupon to the cashier? BIZARRE!!! Anyway, after about 15 minutes of keeping me waiting, he said someone at HQ told him that only 2 of the same coupons would be accepted at a time which I know to be a complete crock since I have used many coupons at Family Dollar stores before. In fact, why would Family Dollar even object to the use of more than 2 coupons since they are the SAME as money. Actually even better than regular money since they also get a handling free for each coupon.
Anyway, there was no arguing with him so I got my 2 bottles of Purex and simply went to another Family Dollar store without a clueless manager.
This was like the captain of a ship wondering if rope could be used to secure his vessel to a dock.