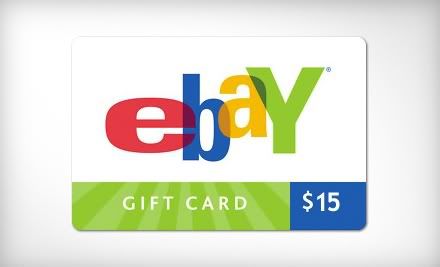 How would you like to pay just $7 for a $15 gift card? In effect you are being GIVEN $8. Well, that is exactly what is happening right now with eBay OFFERING you this spectacular gift card deal. Yes, you pay only $7 but you get to buy up to $15 worth of anything you want from eBay with this card. If you buy more than $15 then the first $15 is charged to this eBay Gift card for which you pay only $7 and the remainder is charged to your PayPal account.
I've used these eBay gift cards many times. Simple to use. At payment checkout for your eBay item, you will see a box for entering your gift card Promotional Code. That will charge your gift card. In this case you will be sent via email a link to print out your online gift card which contains your specific promotional code.
I assume most of you already are PayPal members but you also need to sign up with GroupOn. Very quick signup and then you are ready to purchase this gift card. I was going to write up a special report on GroupOn for The Coupon Whisperer and I will do that in the near future but this is a great opportunity to jump into GroupOn with a great deal.
You have until Thursday night to buy this $15 eBay Gift Card for just 7 bucks. When I purchased this gift card last night, about 82,000 of them had been purchased but now almost 200,000 have sold. With a deal like that it is no wonder. A few hours after you purchase it, you will receive via email the link with your gift card promotional code and you can use it at any time. No expiration.
The Coupon Whisperer plans to use his eBay Gift Card to purchase, what else, coupons on eBay.
Don't procrastinate on this deal because it will be gone after tomorrow night. BTW, when you register with GroupOn for the first time, The Coupon Whisperer will receive a $10 GroupOn "bucks" referral. Hey, you can do the same and maybe earn enough GroupOn bucks to buy lots of GroupOn deals for FREE or close to it. But more on that later. The important thing is that you don't miss out on this deal. Oh, my local newspaper even had a small blurb about this deal in their Money section.