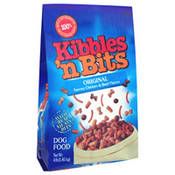 If you live in the Southeast, you're in luck. Starting Thursday, Publix will have a BOGO sale on 4 lb bags of Kibbles & Bits dry dog food. They normally sell for $4.99 but when you apply the $2 coupons from the Feb. 20 Red Plum they will only be about 50 cents each. This would be a good time to stock up on it. For only about 30 bucks you could have enough to feed your dog for a year.
However, if you don't live in a Publix area, there is still good news. This Sunday's Red Plum insert will have Axe shower gel coupons for Buy One Get One Free (BOGO). The only problem is that I have yet to see a store offer this item BOGO but there is always a first time. Even better news is that the April P&G insert will have a BOGO coupon for Gillette Body Wash and those I have seen BOGO in the stores so using your coupons on this item, you will get them for FREE.
The Coupon Whisperer is pretty well set in Body Wash thanx to the BOGO deal last week for Right Guard Body Wash. About a 4 month supply but I am looking to extend it to Thanksgiving if the Gillette deal works out.
Remember, the secret to effective couponing is to match the coupons with spectacular sales... And you don't get more spectacular than the BOGO sales.