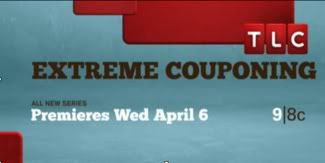 Set your DVRs for 9 PM EDT next Wednesday, April 6. That is when the new TLC series, "Extreme Couponing," kicks off. They had it as a special last December and the response was so great that it has been turned into a series.
Judging from the video on the HOME PAGE of this series, it looks like they have new couponeers featured. I don't know if they will stick to the same group each week or if new couponeers will be featured each week. If the latter, I wonder if TLC would ever get around to contacting The Coupon Whisperer. They might not want me since I prefer to deal in quality, not quantity although when I first started out I went whole hog by getting enormous amounts of stuff that I had no room for. Also the Elmore Leonard quality of my life here in South Florida might be a bit too bizarre for the TLC folks. Like, for example, Randy the Gollum to whom I gave a lot of chicken wings just might be too strange for TV. Somehow I don't think images of this homeless Gollum washing himself off in a dirty canal would go over too well with audiences. Also some of the problem managers I run into which might make for good TV would probably be on their best behavior knowing they are being recorded. A certain throwback redneck store manager comes to mind and I don't think he would want the outer world to see him as he really is.
In any event I highly recommend that you record ALL these "Extreme Couponing" shows. They should have some very good tips that you can use.
Somewhat Off-Topic but there is now a TERRIFIC Publix deal going on. I won't tell you what it is but if you research you should be able to discover the deal. One hint: It is a $1.01 MM per item.
Enjoy "Extreme Couponing" next week! I will probably have "debriefings" of some of these episodes here at The Coupon Whisperer.