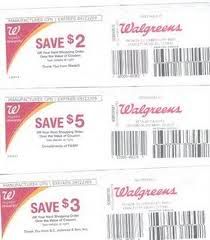 Well, I got pretty excited over the weekend when RummyChick
ANNOUNCED
Walmart's new coupon policy in which they will now be accepting Walgreens Register Rewards. Suddenly a whole new world full of glorious possibilities opened up for The Coupon Whisperer. But first to test out the new coupon policy in actual practice out in the field. Therefore, earlier today The Coupon Whisperer entered the big Broward County Walmart at the corner of Oakland Park Blvd. and State Road 7 armed with a $3 and a $2 Register Rewards.
I didn't want to start out trying anything fancy like a transaction with overage where Walmart would owe me cash change. In fact, I preferred to owe them a little bit OOP just to test out if they were accepting the Walgreens Register Rewards. With that in mind I picked up a bag of sugar and some coffee. When I got to the cashier, the expected happened. She didn't know a thing about the new policy. That was okay so I told her to check with the manager. No rush. I would smugly wait until the manager updated her. I shouldn't have been so smug. It turned out that the manager hadn't heard a thing about the new policy either. Rather than argue the point, I told her that she should check with corporate and that I would return in a couple of days WITH a copy of the new COUPON RULES.
Later this afternoon I stopped at the Walmart at Oakland Park Blvd. and University. This time I was fully expecting that EVERYBODY there would draw a blank. Same deal again. The Coupon Whisperer entered with the two register rewards and again picked up a bag of sugar and some coffee for his shopping cart. I get to the cashier and, again, a blank is drawn. Then she calls manager Kandee over and again I am expecting another blank when Kandee reassures the cashier that, yes, the new rules allows for the use of Register Rewards.
WOO! HOO!
The principle was established that Walmart WILL accept Register Rewards. However, a minor glitch. As I hand my two register rewards to the cashier for the two items she hits me with something about only ONE Register Reward per transaction. HUH? Manager Kandee wasn't sure so the transaction had to be split in two. After some awkwardness (and wasted time) splitting the transaction into two parts so I could use my two Register Rewards The Coupon Whisperer walked out of there making history as the FIRST customer to use Register Rewards at that particular Walmart. I just hope everyone gets up to date that you can use more than one RR per transaction so long as they don't exceed the number of items.
I can definitely see how a newbie couponer would be intimidated by the professed unfamiliarity with the new rules by the Walmart personnel. Such newbies would obviously feel that they, not the Walmart folks, would be in the wrong. Not so. Walmart HQ really needs to update all their managers (and cashiers) about the new policy PRONTO. And while you're at it, PLEASE let the Walmart at Oakland Park Blvd. and State Road 7 as well as at Atlantic and Pine Island, Atlantic and State Road 7, and Atlantic and Powerline know about the new policy and that would pretty much cover all the local Walmart bases for The Coupon Whisperer.
So if you are having trouble getting your local Walmarts to accept the Register Rewards then take it to the top. And I do mean the VERY top in the form of Mike Duke, the Walmart CEO. Don't be shy. E-mail Mike Duke at michael.duke@wal-mart.com. Tell him that The Coupon Whisperer is DYING to buy himself a nice juicy Walmart T-bone steak with his register rewards and that he is getting sick of eating microwave Walmart taquitos. Hurry. Because I am getting really really hungry and don't know if I can hold out much longer. Ah! Ah! AHHHHHHHHHHHH!!!!
Oh, and after you take care of that major piece of business, go ahead and tell Mike about your own problems getting your local Walmart to accept your Register Rewards. However, the important thing is that The Coupon Whisperer gets access to his beloved T-bone steaks as rapidly as possible.