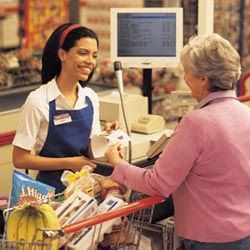 Profiling. That word has taken on such an ugly connotation in recent years. And yet, if you want to be a successful couponer, you MUST profile. And don't feel guilty about profiling cashiers. We all profile in one way or another. Those "enlightened" souls who claim they don't profile are lying. In fact, they are probably profiling people more than the rest of us.
My favorite part of the recent TLC show, "Extreme Couponing" was when Joanie Demer aka Krazy Coupon Lady flat out admitted that she profiles cashiers. And how does she profile the cashiers? As Joanie stated she definitely prefers young cashiers (such as the friendly cashier in the photo above) to little old lady cashiers. And from bitter experience I can tell you she is absolutely correct. If you want to spare yourself a lot of time and aggravation, avoid little old lady cashiers like the plague. You want a sad tale of just how horrible it can be if you throw caution to the winds and choose a little old lady checkout line? Just read what happened to me back in September when I was scoring a few free boxes of Advil at Publix...
I was in Publix and had picked up several bottles of 40 count Advil Liqui-Gels. All lines were very long EXCEPT for the 10 item or less line which, unfortunately, had the type of cashier that I just warned you about. I knew problems would ensue but I also didn't want to wait 20 minutes on line soooo... I get to the elderly cashier who had an angry looking mouth.
I handed her a couple of Advils. Normally they are $6.75 each but they were on sale for just $4.49. I handed her a Publix coupon for $5 off two which lowered the total price to $3.98. She pulled the coupons up close to her eyeglasses as she tried to figure out what the clearly stated $5 off two means. After about a minute she very reluctantly knocks 5 bucks off the price.
And then...I hand her two Advil manufacturer's coupons which were $2 each which made the Advils...FREE! That's when she violently shook her head and declared that I couldn't use those coupons.
I then explained that Publix policy allows a manufacturer's coupon to be stacked on top of a store coupon such as in this case. She still refused to ring me up so I requested the store manager. It was late at night so the store manager was a really young guy yet despite his youth he knew the rules and told the cashier to ring up the coupons.
The little old lady cashier grumbled and said the rules vary from store to store and I replied that the rules in each state for Publix are CONSISTENT. Then she mumbled something about how I shouldn't complain since she is ringing up all the coupons so I reply that she should just go ahead and do that without the grumbling.
All of a sudden she screamed "AHA!" (she actually used that word) and in an incredibly triumphant voice declared that the coupons are only good on 50 count or more.
She wasn't a good reader since in this case (which I admit is rare) the coupon actually said "50 count or SMALLER." I drew her attention to that "little" detail and she very sadly began to do the discount that she should have done without all the drama. But she wasn't done yet because she came up with an absurd final line of defense when she again triumphantly declared that the coupons didn't apply to my Advils because they were Advil Liqui-Gels.
I showed her the coupon up close and pointed out that it said good on ANY Advil. She countered again by claiming that my Advils weren't included because they were Liqui-Gels.
"Lady, what part of the word 'ANY' can't you figure out?"
Again more argument from her so I turned to the young manager who was listening and said, "Could you please bail me OUT of this nightmare?"
The manager looked at coupon and told the cashier, "These are good. Ring him up."
So she FINALLY rang up the coupons in the most depressed manner imaginable. ...And now you know why I say NEVER use coupons with elderly cashiers with tight angry mouths. They ALWAYS cause trouble for you.
Should you think I'm exaggerating the problems almost inevitably caused by the little old lady cashiers, then I invite you to give them a try while couponing. Trust me. You'll be sorrrrrrrryyyyyy...

********************************************************
The Oscillococcinum Flu Medicine deal that I posted yesterday for Walgreens didn't work. See, the medicine that gives the Register Rewards is for CHILDREN'S Oscillococcinum and the $5 coupon in the WAGS January booklet is ONLY for the adult version. However, no big deal since I heard that stuff is not much better than a placebo. PLUS I did some QUICK research at Walgreens today when that deal fell through and came up with an even BETTER deal that worked perfectly for me. Here is how it works:
Buy OMEGA FACTOR 3 premium blend 1300 mg fish oil pills (tuna & krill). They sell for 10 bucks but when you buy it, you get $10 back in register rewards. So what to do with that $10 back? Well, the big boxes of Colonnaide 14 day programs is selling for $29.99 but with in the January WAGS there is a coupon for $20 off that product. Soooo....use the $10 register rewards from the Omega Factor 3 (plus the WAG coupon) and you get it FREE! Great deal but in my case I don't need it since I already had the Fantastic Voyage routine (sans Raquel Welch) done on my colon and everything in there was A-OK. In my case, I used the $10 register rewards to buy 2 DiGiorno Supreme pizzas which were on sale for...$10. Therefore FREE! Plus I used the WAG sales sheet coupon to get 4 Progresso Soups for $5. Then used a couple of $2 register rewards I had on my person to buy all those soups for just a buck. I actually could have gotten it free but I didn't feel like scrambling outside to my van to look for a $1 RR that I knew was sitting in an envelop.
So let's look at my shopping trip. I didn't get that flu medicine like I thought but I quickly switched gears and used a $10 RR I already had to score a FREE bottle of Omega Factor 3 premium blend fish oil pills (which I take everyday) then rolled the $10 that generated to score 2 free DiGiorno pizzas. Plus got myself 4 cans of Progresso soup using $4 in Register Rewards that I had from last week. Total out of pocket for all that...a buck.