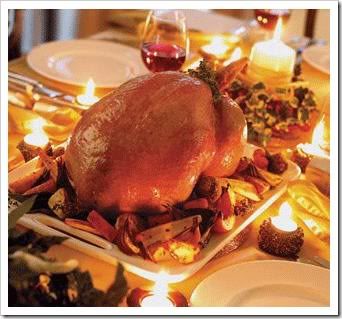 A few days ago I was in the checkout line when I recognized the cashier. She was the same young woman from whom I bought a FREE 24 pound turkey the weekend before Thanksgiving. I remembered that her eyebrows jumped up a bit when the total price of my turkey rang up at only about 40 cents or something in that neighborhood (I like to owe a few cents so I don't feel completely guilty). Anyway, I mentioned to her that I bought my turkey from her prior to Thanksgiving but she didn't remember it. No wonder. Thousands of customers buying food from her and she is going to remember me, even though I did buy my turkey virtually for FREE.
Anyway, I thought back to those shopping days leading into Thanksgiving and recalled how my theme for that holiday was FREE. I had resolved that everything I would buy would be FREE. And it worked out even better than I planned due to couponing Not only did I get FREE turkey but also FREE stuffing, cranberry sauce, gravy, pumpkin pie, and other trimmings. I even got a case of Key West Beer for FREE (okay, really a couple of bucks due to tax).
So how did it work out BETTER than I planned? Because on the morning of Thanksgiving Day, I went to Walgreens for a little over an hour and worked a few deals that gave me almost a hundred bucks in Register Rewards. I then used those Register Rewards to buy toys for my two nephews and niece who were coming later that day. That was something I hadn't planned on.
Exactly how did I get my complete Thanksgiving dinner for FREE? I honestly can't remember. I racked my brain but still couldn't recall exactly how I did it. At first I was irked by my lack of recall but later I was happy about it. Why? Because there are so many creative ways to use coupons that I couldn't remember which scenario I used.
However, I can tell you just one of many ways to get free stuff at the supermarket: save the coupons that knock dollars off the final price of your bill. For example, yesterday I was in Winn Dixie and noticed 3 coupons in the waste basket that gave you $5 off a total bill of $35. So how does that get you to the sacred state of FREE? Simple. That $35 is for the total sale before coupons so if you have coupons that make the items totaling $35 FREE then you get to toss in a $5 item of your choice and you get that FREE due to the $5 off $35 coupon.
Of course, that is not the only way to get free stuff. Today I picked up a large DiGiorno pizza, 2 large cans of Arizona tea, and a loaf of bread for FREE using a $10 Walgreens Register Rewards and a WAGS coupon for the Arizona tea.
Each day is a new adventure in the Land of FREE for the Coupon Whisperer. Yesterday, my adventure was getting a FREE 2 month supply of coffee.
What I am telling everybody is that there are MANY ways to attain the golden state of FREE. Oh, and did I tell you that I got my Compaq Presario laptop computer less than a year ago for FREE via coupons?