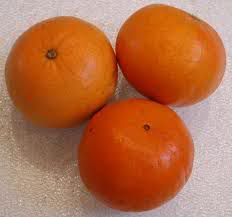 Sometimes, when I am out on a coupon run, I cross paths with the Walgreens Yoda. The Walgreens Yoda is a friend who eats, breaths, lives for couponing at Walgreens. He basically knows all the deals and is usually armed with hundreds (sometimes thousands) of dollars of Register Rewards stuffed in thick envelops. So do I ask him for inside tips on the latest Walgreens deals? Nope. That question is strictly for amateurs since both Yoda and myself know exactly what the good deals are thanks to the many Walgreens blogs and forums available on the Web. The question I usually ask the Walgreens Yoda is: "What are the good fillers here?"
Huh? Fillers? What are they? Well, it would be impossible to do good couponing without fillers. They are the low priced items you often need for your couponing strategy. Ideally, it would be something you need like the tangerines above currently selling in the local supermarket for a dime each which I actually do consume. However, sometimes it is stuff I don't really need personally but is necessary to work out my coupon deals.
There are two basic reasons why fillers are important to effective couponing. The first is in places like Walgreens where you have Register Rewards or something like it. Let us say you have $10 in Register Rewards and you want to buy an item selling for $9.99. If that is all you're going to buy your Register Rewards won't work. Your total purchase must equal or exceed $10. This is where fillers comes in. If you buy a pencil for say, 16 cents, that would put you over the $10 you need to use the Register Rewards.
The second reason why fillers are very important is the coupon count. Most stores require that the total number of coupons you use do not exceed the number of items you buy. Therefore if you stack coupons (manufacturer's on top of store coupons) then you would need a filler for each item you need to meet the requirements of the coupon count. Yesterday, I was doing my "background buzz" couponing in which I was buying items in pairs. Each pair of items had one store coupon for a discount on both items plus I had manufacterer's coupons for each item. Therefore a total of 3 coupons for 2 items. If I bought nothing else the cash register would not have accepted it. The problem was resolved by buying one filler for every pair of items to make it 3 items to match every 3 coupons. In my case yesterday, I was using ten cent tangerines as my fillers.
And now you know why fillers are important. And now I'm off to munch on yet another of my tangerines.