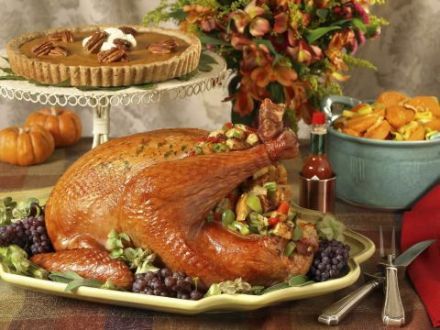 This is the third Thanksgiving in a row in which I "bought" my dinner components for FREE. Here is what I was able to get via coupons:
21 lb turkey
5 boxes stuffing
5 jars gravy
5 cans cranberry sauce
1 gallon egg nog
All that's really left is pumpkin pie and I will get that by using coupons to get cans of the pumpkins as well as the pie shells and bake them myself.
Sooooo... How did I do it? Each year required a different couponing strategy but fortunately the couponing stars went into an almost perfect alignment for me this year. Basically I used the overage provided by Sundown vitamin coupons. Here is how it worked:
Sundown vitamin A and D3 were priced at $3.29. Publix had an ad that ran to last Friday in their Green Sheet in which you got $5 off any 2 Sundown coupons PLUS a recent Red Plum newspaper insert had coupons for $2 off any Sundown. Combine the two together (you are allowed to combine store and manufacturer's coupons) and that gave an overage of $1.21 per Sundown or $2.42 for every pair you purchased. Therefore if you bought 8 of the vitamin A or D3 you had an overage of $9.68.
But wait, there's MORE!!!
On top of that I also used a $5 off $30 Winn Dixie coupon giving me a total of $14.68 overage. Huh? How can I use a Winn Dixie coupon in a Publix? Because Winn Dixie is considered a competitor in my area and Publix accepts W/D coupons. So now you know how I got my FREE turkey.
Not every store had 8 of those types of Sundown coupons but they usually had at least a couple and using the overages provided I picked up the less expensive stuff. Each year a different couponing strategy was used to get a FREE Thanksgiving dinner so I recommend you "grok" the solution for yourself, or better yet, consult the many couponing sites that provide such tips.
BTW, The Coupon Whisperer is going Survivalist so keep checking this blog on using couponing to get free or cheap survivalist stuff. One tip I give you right now is you should make sure you have an ample supply of propane. You could easily end up in a situation of power outages and you need a way to cook your food. My propane I have been getting FREE via GroupOn. They only offer it once in a while but you want to be already signed up (FREE to signup) and ready to grab that deal the next time it is offered. There are also other survivalist related stuff you can obtain via GroupOn.
To sign up for GroupOn, just Click HERE.