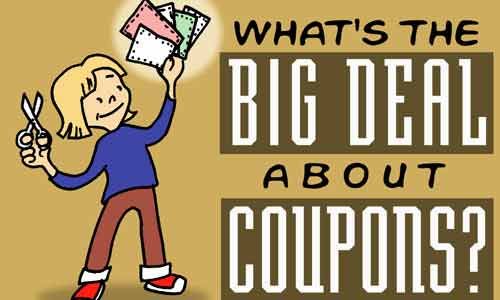 "You do know that you're cheating the system."
Those were the actual words said to me by a clueless cashier the other day.

Cheating? How? Was I using counterfeit coupons? No.
Was I using coupons for unauthorized items? No.
Was I using too many coupons? No.
My only "crime" was INTELLIGENTLY using coupons for the greatest price reduction possible.
Of course, that ignorant statement by the cashier drove me NUts!!! I replied by asking him how I was cheating. He could not answer with other than a general grumbling that I was somehow cheating.
The store manager noticed this scene and quickly took the place of the cashier who was embarrassing his outlet.
Anyway, I got to thinking that all store cashiers need to be thoroughly educated in the subject of coupons. In fact, it is because of coupons that most cashiers have their jobs. Just imagine what would happen if a store were to suddenly announce that it was no longer taking coupons. The first result would be an immediate drop in at least half (and probably a lot more) of its business with the result that many cashiers, including those who were badmouthing coupons, would be laid off.
It is the fantasy of The Coupon Whisperer that all retail establishments hold weekly Coupon Worship Services for their coupons. Attendance by their cashiers would be mandatory. Among the worship activities for the cashiers would be to drop to their knees and shout out in praise of the blessed coupons.
"HALLELUJAH! These coupons have given us our daily bread in the form of our jobs! Blessed be these coupons for we shall not want nor shall we be led unto unemployment."
Finally, there should be reeducation classes for the hard core anti-coupon cashiers such as the one who made the statement to about "cheating" the system. The reeducation instructor should hold up a coupon in his hand and ask the cashiers what they see.
"Coupons," they would respond.
The reeducation instructor would slam his swagger stick hard upon the desk and scream, "NO! What you see is MONEY! It is the same thing since your store gets reimbursed for the full amount plus a handling fee. Actually it is BETTER than money since it pulls in customers resulting in you keeping your cashier jobs. Now drop to your knees and shout 'Hallelujah' to the mighty coupon!"
As you can imagine, my fellow Couponeers, any cashier who gives The Coupon Whisperer grief about using coupons gets an earful from Yours Truly.
p.s. And the item for which the cashier in the incident above complained about has a normal retail value of $29.99 but after intelligent use of coupons, it only cost me a total 42 cents which also included a Valentine's pencil filler.